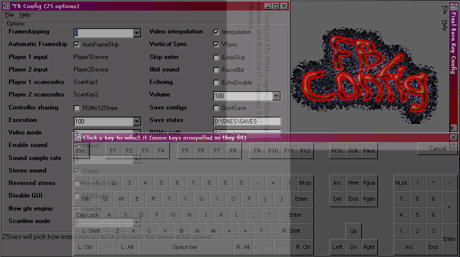 Ok, kewl webpage not pending.
Official home of FB Config.

Download version 0.9.5 here.
Source code here.
Download required Visual Basic 6.0 runtime library here.
Unzip into your Windows\System directory (Win9x/ME) or Winnt\System32 (WinNT/2k).

Questions, comments, passwords? mystiq@optonline.net

The included fbcctrl.dat and fbcinfo.dat have support for Callus 95 and ZSnesW as well as Finalburn. Support for more programs (again, not just emulators, anything with a text ini/cfg file) can easily be added. Just look down to see how this is done.